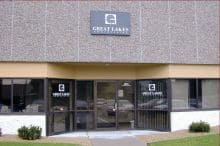 Great Lakes Engineering has been in business for over 20 years. In this time we have gone through many changes, but the one thing that will never change is our commitment to our customers. We are truly a service company and nothing is more important than giving our customers what they need, on time, mistake free and at a fair price.
Great Lakes Engineering is always looking to the future and improving our processes, expanding our markets, and finding new products for our customers. You can count on us for the next big thing. Our state-of-the-art facility has some of the best photo chemical machining technology on the market.
Great Lakes Engineering was founded in 1986 by John M. Carr and called Electro-Precision Inc. John M. Carr built the business around his talent as a chemical engineer. The business was based on the only real viable technology at the time (Photochemical Machining) and manufactured high quality etched parts and surface mount stencils.
In April of 1999, the business was purchased by John Seniors three sons who all had worked several years for their father. John J. Carr, Martin Carr, and Chris Carr along with new comer Bruce Weaver purchased the business, changed the name, moved the facility, and added new technologies while keeping its core expertise (Photo Chemical Etching) and a new era of manufacturing began. Metal etching is a precise process with results that are impossible to duplicate, so it was a natural fit. John M. Carr still is crucial to our existence and continues as a consultant and master chemist for new technologies and process control.
Today Great Lakes Engineering has many capabilities including laser cutting of thin foils, photo chemical machining, metal etching, Electro-Forming of thin Nickel stencils and parts, photo plotting, engineering services, and squeegee blade manufacturing. Precision laser cutting is an additional service that we offer. With precision laser cutting, you can get complex parts to meet your exact specifications. We also have a large jewelry/decorative business that is growing very fast.
Our expertise in manufacturing thin foil metal parts and surface mount stencils is second to none. Our turnaround times lead the industry and our service is awesome. Come see for yourself!