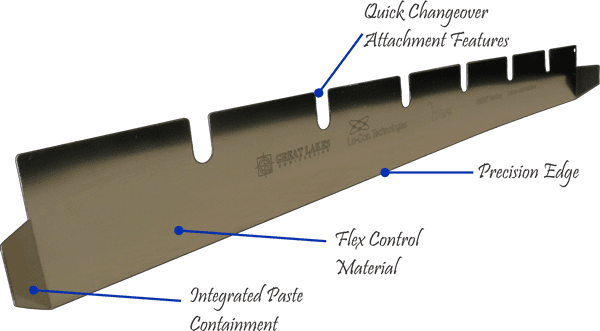 About the Wave Glide Squeegee Blade
The Wave Glide™ Squeegee Blade is designed to be custom fit to any blade holder on the market today using slots, not holes, eliminating the need to completely disassemble the blade holder when the blade needs replacement. Squeegee replacement blades can be difficult to install, but with Wave Glide squeegee replacement blades, the job is quick and easy!
Due to its entry level design, the Wave Glide™ is a drop—in replacement for virtually any other blade you may already have in your application. And because it utilizes paste management technology, it removes the need for set up procedures and other issues. This makes it incredibly easy to install & run while lowering the amount of waste in your facility significantly.
Its unique Integrated Paste Containment Wing requires no setup or operator involvement, virtually eliminating paste tram-lines or paste seeping out behind the guides. No more fiddly deflectors for operators to deal with that just end up getting removed and thrown away. The result - Less paste required for good printing results with users reporting paste saving of up to 250 grams per job!
The Wave Glide™ Squeegee Blade is easy clean up as there are no nooks or crannies to contend with. Great Lakes is certainly the best flexible squeegee blade manufacturer on the market. If your business needs squeegee replacement blades, look no further!
Detailed information about The Wave Glide™ Squeegee Blade can be obtained by contacting John Carr, Director of Sales at Great Lakes Engineering, Inc. at johnc@greatlakeseng.com